​Our next offering is Writing in Paradise
in unforgettable Bali
Here's the picture...
You're relaxing on a verandah overlooking a lush tropical garden. For half the day and each evening, you're being guided by two experienced mentors to create new writing or finesse the piece you've brought with you.
In the afternoons, you're free... to open your writing book or your laptop and fill the pages. Having learned new writing craft skills, you'll probably be bursting with fresh ideas, splendid sentences and engaging characters and you'll just want to keep going. Or, of course, you can relax and explore Sanur village or the local beaches
instead.

With our focused writing program, your voice will emerge — and 'compelling voice' is the phrase most used when publishers are asked what they're looking for!
​
​Where is the retreat held?
Look left... you're at Villa Sekala, in Sanur, Bali in a light-and flower-filled garden
with lots of nooks to read, write, dream,
create. (You might be blessed by a visit from the resident tortoise.)
What does a Writing in Paradise retreat offer?



At Writing in Paradise you'll:

* Learn about the power and discipline of writing daily

* Learn how to tap into your imagination
to create memorable and captivating
passages of writing

* Benefit from support, guidance and feedback from two writing mentors and editors

​* Enjoy the mutual support of a small group of fellow writers (maximum 10)

* Discover what Hemingway meant by 'the hardest thing about writing is getting the words right'.
Intrigued? Take the opportunity to create your best work
Over 6 nights and 7 days we'll guide, inspire, support and nourish your writing skills. You'll find your voice and discover the thrill of creating a new piece of writing as well as refining the piece you've already started.

Who will be leading Writing in Paradise?
Shelley Kenigsberg
Formerly president of the NSW Society of Editors, Shelley has been
active in Australian editing societies and the publishing industry for nearly three decades. An esteemed freelance editor, writer and trainer, Shelley mentors authors privately, via the Australian Society of Authors, the Byron Writers Festival, and through Editing in Paradise's Monthly Writing Salons.
Her courses and sessions are specifically designed for writers
preparing to submit manuscripts for publication, for those choosing to publish independently, and for those just starting to write. Courses are
offered through Singapore's Academy of Literary Arts and Publishing and at writers' centres and literary festivals in Australia, China and Bali.
Shelley has commissioned new titles (trade and education) and edited books for Australia's most respected publishers, while serving as Head
of Book Editing and Publishing at Macleay College, Sydney's premier
independent university for 27 years.
---
David Leser
An award-winning journalist who has worked in Australia and internationally for the past 37 years. Author of six books, his most recent — a memoir, To Begin to Know: Walking in the Shadows of My Father (2014) was shortlisted for the 2015 Australian National Biography Award. While his other books include political biography, short stories, profiles and business, he was also
executive producer of the award-winning Australian
music documentary 'Paul Kelly: Stories of Me'.
A former Middle East and Washington correspondent David has worked as a senior feature writer for the
Sydney Morning Herald, Melbourne Age, The Bulletin,
HQ magazine, Good Weekend and, for a decade, as the writer-at-large for The Australian Women's Weekly. He was Australian correspondent for Italian and German Vanity Fair.
Based in Sydney, David works as journalist/author,
writing mentor, public interviewer and guest lecturer. He has a doctorate in the ethics of memoir.
"If you are writing or have a dream of writing a novel, a memoir, a poem — take the time and gift yourself this retreat. Writing is not easy; there are blocks and walls and doubts and for most of us it's done alone. Connecting with other writers and having the daily guidance of Shelley and David will fill up your creative tanks and restore your faith in your talent and in the process of writing your manuscript!" — Amy Davoren, Sydney, 2017
Kelly, who was at our July 2016 retreat in Bali, said: 


'

I'm back to writing after such a dry spell. It wasn't that I was out of things to say or words to say them with, I had fallen out of the habit of listening to myself ... of observing my world and reaching for the words to express the aching gratitude I feel for its ferocious beauty.

'  

— Kelly McDonald, Bali, 2016
My mission was to learn to edit my book, gain feedback and spend time in the company of experienced editors and writers. From day 1, the mission became an inspired journey with every moment leading to exciting ideas, new skills and fresh insights into all aspects of my manuscript. Shelley created an environment that was not only productive, but encouraging, enlightening and fun (at times hilariously so). A writer couldn't want for much more than a stunning location, uninterrupted writing time and editors on hand. Thank you, thank you, thank you!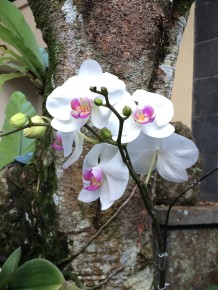 Nicole West
The Gypsy Trail,

Gold Coast
Register as an Early Bird, pay in full by 31st August
and receive a bonus of
2 Online Writers Salons (valued at $110)
with Shelley Kenigsberg
​
These 2 bonus Writers Salons will help you:
Move through writers block
Get help meeting your writing goals and deadlines
Experience the support of an on-going community of like-minded aspiring writers
Get feedback for the direction your writing's going in
Gain a sense of belonging and connect or reconnect with writers from your
past retreat
Grow more confident about your writing skills and keep your writing on track.
Calls provide prompts/exercises and encourage you to not shy away from
seeing whatever lies in front or behind in your writing. Each salon includes feedback, a chance for Q&A as well as strong guidance for your next writing steps.
Calls are held online on the second Sunday of the month. You're welcome to join in before or after your retreat.
"Thank you so much for the Writers Salon session today. It was wonderful to start to work with you and I really enjoyed it. I felt deeply nourished and found the group very safe and supportive. I also felt deeply connected with my love of writing both during and after the session. So thank you for creating such a lovely, inspiring space and I really look forwards to joining the coming ones,"

—

Jewel Janan, writer, therapist & workshop presenter
---
Our Early Bird rate is valid until 31 August. You save $270 off the full price as well as being able to join 2 online Writers Salon sessions
— prepare for the retreat or follow up.
What is included in your retreat package?
SUPER EARLY BIRD
SOLD OUT
7 days & 6 nights mentoring with 2 experts in the field
6 nights
accomodation
Internal transfers
A unique temple experience
All teaching
materials
All meals
Shared accomm (Single room
supplement $260)
Fees do not include airfares/travel insurance
BONUS 2 months of
Online Writers Salon
SAVE $500 off the total price
$1995 Total
SUPER EARLY BIRD PLACES ARE SOLD OUT
EARLY BIRD
VALID TO 31 AUGUST
7 days & 6 nights mentoring with 2 experts in the field
6 nights accomodation
Internal transfers
A unique temple experience
All teaching materials
All meals
Shared accomm (Single room supplement $260
Fees do not include airfares/travel insurance
BONUS 2 Months of
Online Writers Salon
Save $270 off the total price
$2225 Total
Secure your place with a $600 Deposit
& pay in full by 31 August
Limit of 4 places at 
Early Bird rate
FULL
REGISTRATIONS CLOSE
28 SEPTEMBER
​7 days & 6 nights writing mentorship with 2 experts
in the field
6 nights accomodation
Internal transfers
A unique temple experience
All teaching materials
All meals
Shared accomm (Single room supplement $260)
Fees do not include airfares/travel insurance
Booked by 7 September with a $600 deposit; Paid in full by 28 September
$2495
Deposit of $600, Pay in full by 28 September
---
It is rare to come home and describe a short trip to friends as "life-changing", but that's exactly what I did when I returned from Bali. In one hot, intensive week, I discovered what my real writing strengths and weaknesses were – things clicked into place, and I worked harder and with more focus than I have in a very long time. It was hard to leave when I'd spent each day showering under the palms of a banana tree and eating delicious food every night amongst lantern-dressed palm trees with the sea gently lapping at the shore as we all laughed and shared stories long into the night. And yet, I was actually excited about going home, because I now had a plan and I couldn't wait to get on with it. Inspiring.
Stephanie Goldberg
UK
Do you have questions?
We'd love to hear from you if you are considering joining us and need more details; email us or let us know if you'd like us to give you a call. If you're in Australia, you can contact
Shelley on (02) 8006 8067 for the cost of a local call no matter where she may be.
As we are often away researching paradisiacal locations,
we may only be able to email responses within 2-3 working days.
---