Our next offering is the inspiring and unforgettable

Writing in Paradise
Saturday 1– Thursday 6 April 2017
Here's the picture. You're relaxing on a verandah overlooking a lush tropical garden. 
You've got your writing book or your laptop and you're filling the pages with new ideas, splendid sentences and engaging characters and you want to keep going.
Where are you – you ask?
You're in a beautiful beach side location in Byron Bay, Australia and the writing retreat is underway.  For now, you're immersed in the world of words and your own writing project. You're in the company of other writers and they're as enthusiastic as you… and helpful and dedicated to getting their writing done.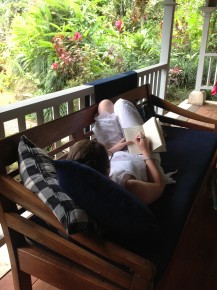 All of you know how precious it is to have time to yourselves away from daily life and commitments. And how thrilling it is to enjoy creating this piece of writing, whether it's a new story or part of your larger one or a poem or anything else.
Intrigued? Of course you are. Let me tell you more…
Over 5 delightful nights and 6 days we'll be working with you to craft your piece of writing. You'll be inspired, supported and nourished. 
So why should you join us?
Simple, this is the perfect environment to take your writing further than you may have thought possible in a week.
Plus we'll be exploring a few of Byron Bay's special sites where you'll find inspiration, devotion and calm. You'll have delicious food every day, time to relax and explore the region and avail yourselves of some nurturing and relaxing spa services !
.
At Writing in Paradise :
learn about the power and discipline of writing daily
learn how to tap into your imagination to create
memorable and captivating passages of writing
benefit from support, guidance and feedback from
two highly-trained writing mentors and editors
enjoy the mutual support of a small group of
fellow writers
discover what Hemingway meant when he said
the hardest thing about the writing endeavour is
'getting the words right'.
.
Cost: $1780 AUD + Accom + catering
Venue: TBA, Byron Bay 
Inclusions: All workshop materials,  accommodation
(single room), meals, internal transfers.
(Does not include airfares.)
.
---

A dream come to reality. Couldn't have been better! — Helen Kinny-Lewis, Bali

---

A writer couldn't want for much more than a stunning location, uninterrupted writing time and editors on hand. Thank you! — Nicole West, The Gypsy Trail, Gold Coast
---
This was so much more than 'just' editing. It was fantastic and I absolutely loved all the great reference material you provided. And the accommodation and food — don't change a thing. Thanks so much for a wonderful week. What a journey!  Fabian Winiger, Oxford

---

I've made great strides in the past week…it's all thanks to your input, your guidance your suggestions and careful understanding, and above all, your positive reinforcement all the time. I noticed! I'm harnessed to the muse, not the other way round…and it's wonderful. Jennifer Friedman, Sydney

---
Who is presenting Writing in Paradise?
Shelley Kenigsberg  — an esteemed  freelance editor, writer and trainer for 30 years, has worked with authors in a wide range of genres and commissioned new titles (trade and education). She's edited for Australia's most respected publishers for the past 27 years.
Shelley mentors authors privately and via the Australian Society of Authors and works with writers preparing to submit their manuscripts to commercial publishers or choosing to publish independently.  She presents long and short courses in editing and writing at literary festivals and writers' centres in Australia, Indonesia and Singapore.
She has been Head of Book Editing and Publishing at Macleay College, Sydney's premier independent university, for 26 years and active in Australian national and state editing societies, serving as President and Vice-president of the NSW Society of Editors.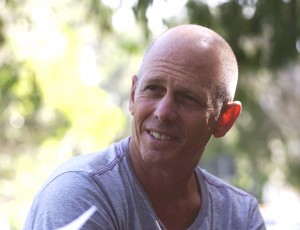 David Leser is an award-winning journalist who has worked in Australia and internationally for the past 37 years. Author of six books, his most recent — a memoir, To Begin to Know: Walking in the Shadows of My Father (2014) was shortlisted for the 2015 Australian National Biography Award. While his other books include political biography, history and business, he was also editor of Paul Kelly: The Essays (2012), as well as Executive Producer of the award-winning Australian music documentary 'Paul Kelly: Stories of Me'.
A former Middle East and Washington correspondent David has worked as a senior feature writer for the Sydney Morning Herald, Melbourne Age, The Bulletin, HQ magazine and, for a decade, as the writer-at-large for The Australian Women's Weekly. He was Australian correspondent for Italian and German Vanity Fair.
Based in Sydney, David also works as a public interviewer, guest lecturer and writing mentor.
Ready to sign up? Enter your details below
---
Have a read of our FAQs page or Contact us and we'd be happy to send more information or give you a call.
.
---
I am so glad I made the decision to come. It was brilliantly organised. So much more than I would have expected to get from one week's workshop. We worked hard, and I personally think I achieved much with the help of this enthusiastic and encouraging team. Christine Eyres, The White Apron, 2013, Australia
---
.
.
Or Psst… have a look at our August, 2017 retreat in Ibiza!